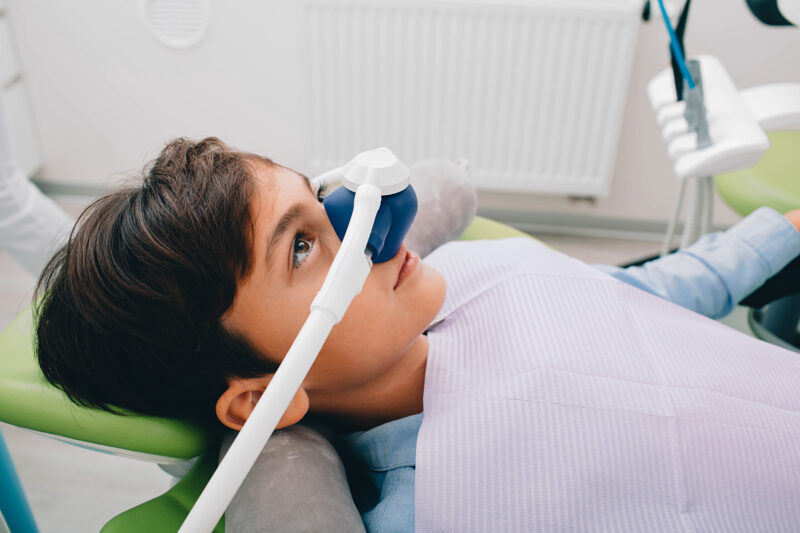 Does the thought of a dental appointment make you nervous? Unfortunately, many people – adults and children alike – have an irrational fear of the dentist, and for many, this fear prevents them from visiting their dentist regularly.
Perhaps you had a negative experience at the dentist growing up, or maybe it's the sounds and smells that give you a sense of unease. If this is the case for you, please do not worry. The team at Downtown Whitby Dentistry has an option that will eliminate any anxiety you may feel during your dental check-up or procedure.
Nitrous Oxide, or laughing gas, is a type of dental sedation offered by your dentist in Whitby, to make you more comfortable during your appointment. Nitrous Oxide is a gas that you will inhale under the supervision of your Whitby dentist. It works fast to relax you and its affects wear off quickly, so you won't be left numb for the rest of the day. This laughing gas is a mild, safe way to sedate a patient and manage their pain and anxiety. It has no colour or odor. The gas is mixed with oxygen before it is administered to the patient.
Nitrous Oxide is administered by the dentist through a small mask that is fitted over the patient's face. The patient is asked to breathe normally, usually feeling the effects of the gas within minutes.
While it is often called laughing gas, Nitrous Oxide actually slows down your nervous system, so you feel more relaxed and less inhibited. Many patients report feeling light-headed while under the effects of nitrous oxide, and some say their arms and legs feel heavy. It creates a sense of calm and relaxation, and patients being treated while sedated by nitrous oxide are even known to giggle from time to time.
This form or dental sedation is commonly used on adults and children to make them more comfortable during their dental appointments. While it is known as a very low-invasive and safe treatment, you may want to consider other options if you have a respiratory illness, you're in the early stages of pregnancy, have vitamin B-12 deficiency, or a history of mental health problems or substance abuse. If you do fall into one of these categories, be sure to let your dentist know so you can assess the risks involved in using this treatment option.
Don't let anxiety keep you from visiting your dentist regularly! If you are anxious or nervous about seeing the dentist and think that Nitrous Oxide may be the right option for you, call our team today. We'll discuss your unique situation and work together to determine the right treatment plan to meet your needs.
Downtown Whitby Dentistry is growing and accepting new patients and emergencies.